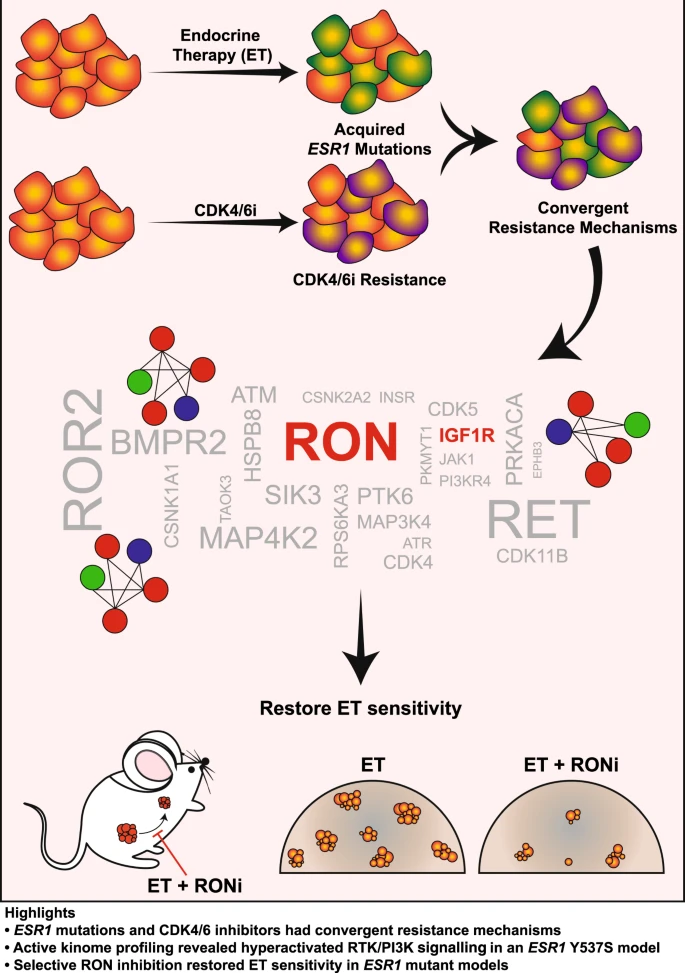 Scientists performed a proteomic kinome analysis in ESR1 Y537S mutant cells to identify hyperactivated kinases in ESR1 mutant cells. They validated Recepteur d'Origine Nantais (RON) and PI3K hyperactivity through phospho-immunoblot analysis, organoid growth assays, and in an in vivo patient-derived xenograft metastatic model.
[

British Journal of Cancer

]
6807162
HUXCYPNU
items
1
apa
default
asc
1
Dustin, D., Gu, G., Beyer, A. R., Herzog, S. K., Edwards, D. G., Lin, H., Gonzalez, T. L., Grimm, S. L., Coarfa, C., Chan, D. W., Kim, B.-J., De La O, J.-P., Ellis, M. J., Liu, D., Li, S., Welm, A. L., & Fuqua, S. A. W. (2020). RON signalling promotes therapeutic resistance in ESR1 mutant breast cancer.
British Journal of Cancer
, 1–16.
https://doi.org/10.1038/s41416-020-01174-z
Cite